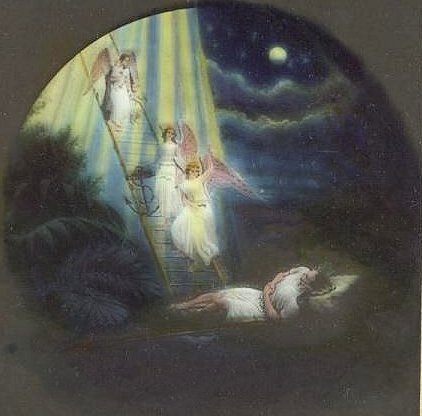 this year i'm using "the one year bible" NIV ... to read through scriptures' pages ... one day readings include the old testament/new testament/psalms/proverbs ... i love to try fresh approaches to see how God speaks to me ...
this morning's old testament reading was about Jacob's dream ... "He had a dream in which he saw a stairway resting on the earth, with its top reaching to heaven, and the angels of God were ascending and descending on it." ... what a dream ... even as a kid, this particular story always captivated my imagination ...
when Jacob woke from this dream, he said "Surely the Lord is in this place, and I was not aware of it." ...
just think, Jacob wasn't in his usual comfy tent ... he had to use a stone for a pillow ... and the sky as his blanket ... it didn't seem like the best of places to be ... to top it all off, he must have been just a wee bit scared - leaving his home, where he was his mother's favourite son ... yet hated by his brother - therefore making flight a necessity ...
and then in the wilderness - he has this glorious dream ... a dream that makes him conclude that God was in this place ...
if i stop and consider the places where i've least wanted to be ... or the times that made me really shake in my boots ... well those were the periods that i look back on and say "surely the Lord is in this place, and i was not aware of it ... "
God was "moving and shaking" events in some unseen realm ... that only became apparent - afterwards ...
awww, sweet faith ... may we all remember that God is ALWAYS in whatever place we are in, even though we are not aware of it ...