Blue Jay visit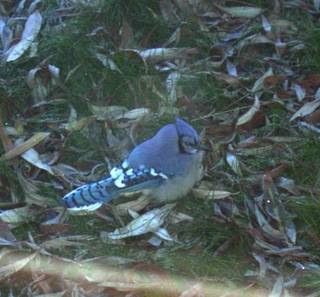 after posting my sparrow postcard yesterday, i happened to look out the window and there was a blue jay, just sitting on the grass . . . i thought - sheesh - what if a cat sees it? what if it's hurt? what if? what if? my natural inclination to worry and be protective just starting running away with my imagination!
well mr. blue jay rested for awhile, puffed itself up (it was a cool morning) and then just flew away . . . my worrying about him didn't do anything positive or constructive . . .
what's my point? welllllllll . . . the usual i guess . . . worrying about L's health or beating myself up with questions like - am i doing enough? am i doing too much? what if he continues this downhill spiral? what if this? what if that?
maybe if i just rest in the Lord for a bit, be still and know that He is God and in charge of even the smallest of details . . . then i too can continue to fly on . . . with the wings of a stronger faith . . .
i like that thought . . .