Ruth Bell Graham
was blogging before her time ... many of her books read like the most interesting and popular of blogs ... one of my favourites,
Legacy of a Pack Rat
, i
posted
about in December ...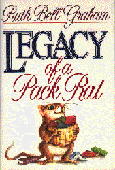 in it she recounts stories from her journal, shares poems and quotes others who's words have spoken to her heart ... it is such an uplifting book, that i had to mention it again ... if you are a blogger, then this is a wonderful find, a woman "posting" before her time!

from page 59 of Legacy ...

"Interruptions never distracted Jesus. He accepted them as opportunities of a richer service. Interruptions were the occasion of some of His most gracious deeds and revealing words."

- G.H. Morling, Quest for Serenity.

Another book of Ruth's,
Prodigals and Those who Love Them
, is written in the same manner ... great little stories, funny quips & quotes, as well as her own wise thoughts, such as this from page 44 ...

"A weary Christian lay awake one night trying to hold the world together by his worrying. Then he heard the Lord gently say to him, "Now you go to sleep, Jim; I'll sit up."
i hear that Ruth Bell Graham's health is quite poor at the moment ... she suffers from chronic back pain (plus other things) like leo ... the Lord knows our frame and what we can endure, so i won't question ... i would just ask that He bless this precious lady ... her many many books that i've read, have sure lifted my heart and spirit on numerous occasions ... if you are wondering about a book, and it has her name on it as author ... wonder no more - buy it - it will be a GOOD uplifting read and GOOD for you too!