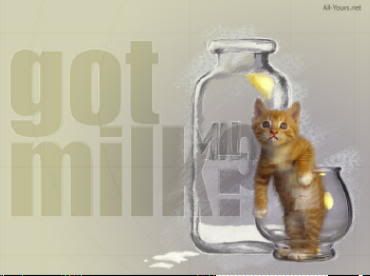 cold milk! fresh milk! yay ... we finally DID get milk!
which means i went to town - driving on roads that had frozen ice/snow on them ... the traction control went on a few times, just to keep the car going straight, rather than swerving ... wonder if my inner traction control kicks in just as quickly? ... you know, to keep me going the way i should ...
i brought home a big bag full of mail (post office box) ... and it felt good to be out and about again ... and to read the newspaper ...
guess what? it is supposed to rain tomorrow ... which isn't so unusual for this time of year - one day there is a little blizzard and freezing temps ... the next day it can pour rain ... duh!
the "got milk" part made me happy - to have had only sour milk in the fridge for 3 days, is a sad state of affairs!