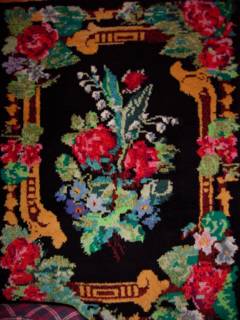 my mother is a talented weaver . . . the tapestry pictured above hangs on our dining room wall . . . mom made it 35 years ago ...
it takes a great deal of time, much planning and an ability to follow a complicated pattern to get the tapestry to look right . . . so many little details go into the colourful, completed work . . . the right yarns, equipment, even the fancy footwork on the loom's wooden pedals . . . the weaver's needle shuttles in and out after each yarn is individually tied into the proper place . . . the end result is pleasing to the eye ...
i often view our lives here on earth like a tapestry . . . if we trust in the Lord, and let Him guide our path, the end result will be pleasing to His eye ...
at times we may falter because we are viewing this life through a glass darkly . . . only seeing the back side of the tapestry, full of dark thread, knotted bits of yarn . . . the colours muted ... sometimes with no rhyme or reason to the pattern ...
faith tells me that our life in Jesus, is a life well spent . . . a life that flows with the correct colour scheme ... the beauty of which we may not see until the finished product is displayed . . . a life that at the end of this pilgrimage, will be a beautiful handiwork . . . a tapestry of praise to the Maker.