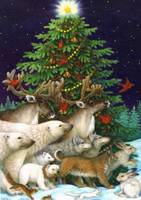 the shortest day, the longest night . . .
the expectations are high, the children's excitement is growing . . .
i remember a story i heard as a little girl in Finland, about a boy who got lost in the woods on Christmas eve . . . while trying to find his way home, he happened to stumble on something marvellous . . . the animals Christmas party . . . it was the one night of the year that the wolf didn't try to devour the jackrabbit, the animals all got along and celebrated the birth of the Christ child . . . i can't remember the whole story (i was only a

little

girl!!), but the thought of enemies at peace, stayed through the years . . . the feeling that this time of year is filled with "magic" and anything can and will happen . . .
to try and always find the wonder in the Season is what can keep a grown up girl's
Christmas spirit alive as well . . .