quiet reflections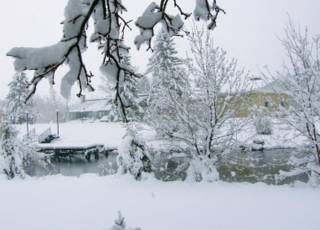 come sit with me for a bit . . . just quiet your heart . . . despite what may be happening a world away, the Lord still gives us simple pleasure to make us smile here in our world . . . not that we forget those in distress, but just a gentle reminder that God is still in control ...

i woke up to a winter wonderland this morning . . . the snowflakes were large and gently falling . . . the coffee pot was ready to go, as i stumbled into the kitchen (a cat swirling around my feet) . . . the fire only needed a log thrown in, it caught and roared to life . . . i looked out the window and marvelled at the beauty of newly fallen snow, the quiet of a world at peace ...

i took my hot cup of coffee to the computer room, read some e-mail from family and friends, then checked out
Debra's
blog and sure enough - God used it to bless my heart ...
now the fire needs tending again, my cup needs refilling and soon i will wake Leo so we can have our devotions together ...
it's the simple things in life that we take for granted . . . yet it is the simple things that sooth our hearts when they are troubled ...
thank you Lord for your reminder.